QuickBooks Desktop to QuickBooks Online: What Converts and What Doesn't
A handy resource for when you transition to QuickBooks Online.
Taking the fear out of change
QuickBooks Online allows your Kaizen accounting team to work with you seamlessly and gives you the freedom and flexibility to access and view your accounts from anywhere.
Changing software programs can feel scary, though. That's why we work closely with our clients to help them make the transition from QuickBooks Desktop (QBDT) to QuickBooks Online (QBO) smooth and worry-free.
We put this reference tool together to help you stay on top of what's happening inside your accounting software.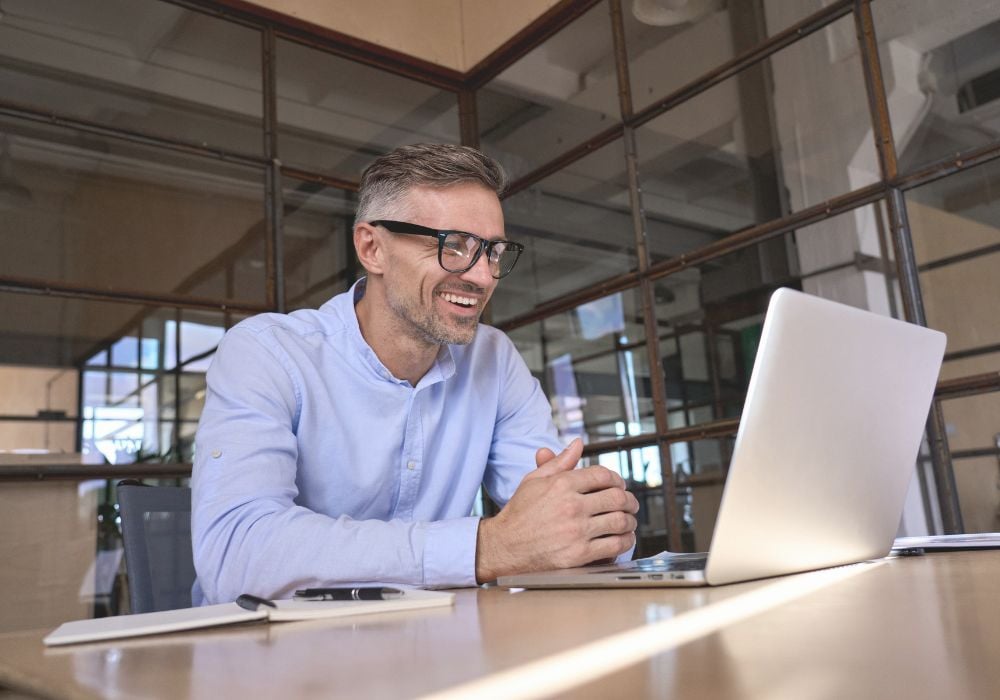 HOW TO USE THIS REFERENCE TOOL
If you know what feature you're looking for, simply click on it in the Table of Contents to navigate directly to that feature. Otherwise, scroll down the page to see all features.
TEST DRIVE QBO
We recommend taking a spin in this test drive account to get a feel for the QuickBooks Online experience: Take a Test Drive
This "Test Drive" is a QuickBooks Online Plus subscription level and is our most recommended version of the software for the majority of our clients.
TABLE OF CONTENTS
Easily navigate in the tabs below.


---
CHART OF ACCOUNTS
QuickBooks Online offers a unique feature called "Detail Type" in addition to the usual account types like Bank, Accounts Receivable, Other Assets, Equity, and Income. This feature allows you to further categorize your accounts within your chart of accounts. During the conversion process, the system automatically assigns the appropriate detail type for obvious accounts, such as Undeposited Funds. However, for accounts where the detail type is not clear (which is the case for most accounts), a generic detail type within the normal type is assigned, which can be edited later. It's important to note that bank account numbers and notes are not converted during the process.
---
ATTACHMENTS
Unfortunately, any attachments you have saved in your QuickBooks Desktop file cannot be converted to the Online version.
---
AUDIT TRAIL
Although the audit trail of previously entered transactions may not convert from Desktop to Online, QuickBooks Online has its own automatic Audit Log that you can rely on. This log keeps a detailed record of every transaction that is added or changed, as well as a log of user log in/out activity for the file.
---
BILLS AND BILL PAYMENTS
When you convert item receipts to bills, unfortunately, the Bill Received checkbox does not carry over. Similarly, when converting bill payments, the discount that was applied in the Desktop version will be converted as a Vendor Credit. It's also good to note that the address on the bill payment check will be replaced with the Vendor Address from the Vendor List.
---
BUDGETS
You can access budgets in the QuickBooks Online Plus and Advanced versions. Only the Profit and Loss budget type can be converted to QuickBooks Online.
---
CLOSING DATE
The closing date from your Desktop will transfer, but keep in mind that the password associated with that specific closing date will not be converted.
---
CREDIT CARD CHARGES
With QuickBooks Online, you can effortlessly track and manage your expenses by seamlessly converting credit card charges into Expenses. In addition, bill payments made using credit cards are smoothly converted into bill payments, streamlining your financial processes.
---
CUSTOM FIELDS ON LISTS
QuickBooks Online does not currently have the capability to support custom fields on customers, vendors, employees, or items. However, if you are using QuickBooks Online Essentials or Plus, you do have the option to add up to three custom fields on sales forms and transactions. Additionally, the 'Sales Rep' field will be converted to a custom field on the sales forms.
---
CUSTOMER AND JOBS
When your jobs are converted to 'Sub-Customers', it's important to keep in mind that not all customer details and job information will be transferred. One specific detail that is affected is the Ship to Address, which is placed in the mail address field. However, initially, the City, State, and Zip Code fields are left blank, but don't worry, you can easily edit them later. For a more comprehensive overview of the conversion process, please refer to the chart below.
Quick Reference: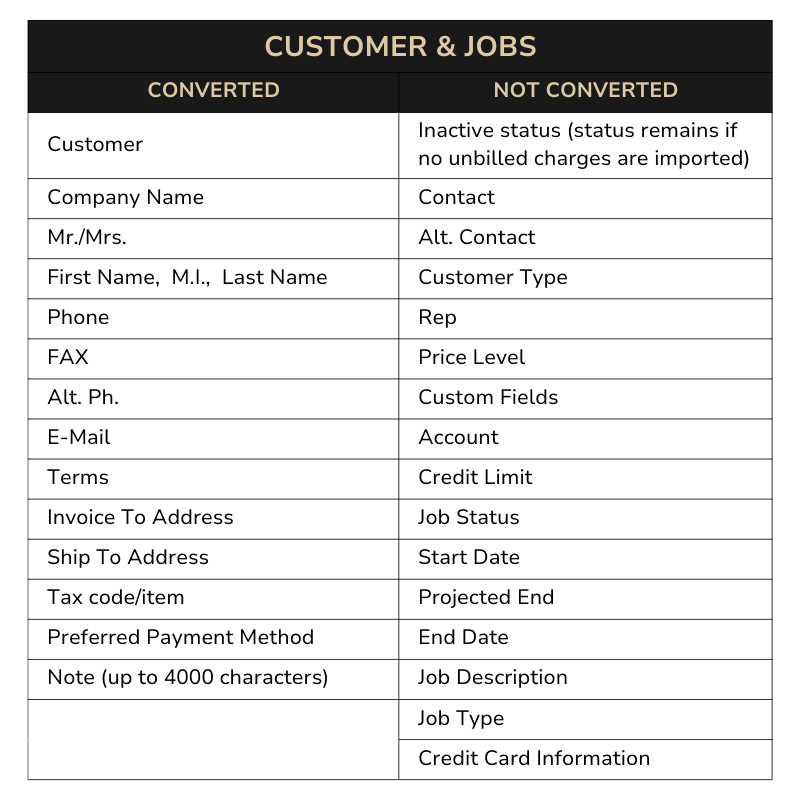 ---
DISCOUNTS
Although QuickBooks Online does not automatically calculate discounts for early payments when a payment is received, you have the option to specify the discount in the Terms section. Any discounts given for early payments will be converted into credit memos and applied to the customer's outstanding balance. Similarly, discounts received from vendors for early payment of bills will be converted into vendor credits and applied to the vendor's outstanding balance.
---
DOCUMENTS
Attachments linked to the documents listed under the Company Menu do not transfer along with the documents themselves.
---
ESTIMATES
When you convert estimates to QuickBooks Online, all estimates will be transferred. However, active estimates will be labeled as "Closed" while inactive estimates will be labeled as "Rejected." This is because, after the conversion, the estimates used for progress invoicing will no longer be linked to the invoices created in the Desktop version.
---
FINANCE CHARGES
Existing transactions in QuickBooks Online convert finance charges into invoices, ensuring no data is lost. While QuickBooks Online doesn't have an automated feature for assessing finance charges on late customer payments, you can easily generate a report to identify overdue customers and manually add finance charges that will be reflected in their subsequent invoices.
---
GROUP ITEMS
If you have group items in your QuickBooks Desktop file, they will be smoothly converted into the Products & Services Lists in QuickBooks Online.
When it comes to sales transactions, these group items will be converted as Bundles, which guarantees that all components of the group items will be accurately transferred.
When you view the transaction, each item of the group will be displayed on a detailed line, making it easy for you to identify which items were part of the group. The group name will be presented on the top line, while the group description will be shown on the bottom line. And the group totals will be conveniently included on the last line of the invoice in the description field.
---
INACTIVE ELEMENTS ON LISTS
If you have accounts, customers, or vendors in your QuickBooks Data file that are marked as inactive but still have an open balance, they will be converted to QuickBooks Online Plus as active elements. However, if there is no balance associated with these names, they will be converted as inactive (referred to as "deleted") in QuickBooks Online. 
---
INVENTORY
Inventory management is a key feature offered in QuickBooks Online Plus, using the efficient First-in-First-out (FIFO) method in accrual accounting. That said, it's important to note that only the Windows version of QuickBooks Desktop has the capability to export inventory data to QuickBooks Online.
During the import process, you will be prompted to either not carry over inventory or to select a date, which will be used to recalculate your inventory based on FIFO calculations. Intuit will seamlessly transfer your current item quantities, item accounts, and details, so you won't have a big clean-up on inventory after the import is complete.
---
INVOICES
Due to the differences between QuickBooks Desktop and QuickBooks Online, certain invoice data needs to be "translated" during the conversion process.
PO No = Custom Field 1
Sales Rep initials = Custom Field
Subtotals are not automatically calculated; however, they are included in the description field of each line on the invoice. Unfortunately, progress invoices, which are based on estimates, and their additional fields are not converted. These fields include estimate quantities, estimate rates, estimate amounts, prior quantities, prior average quantities, prior average rates, rate, prior amounts, prior percentages, current percentages, and total percentages.

Quick Reference: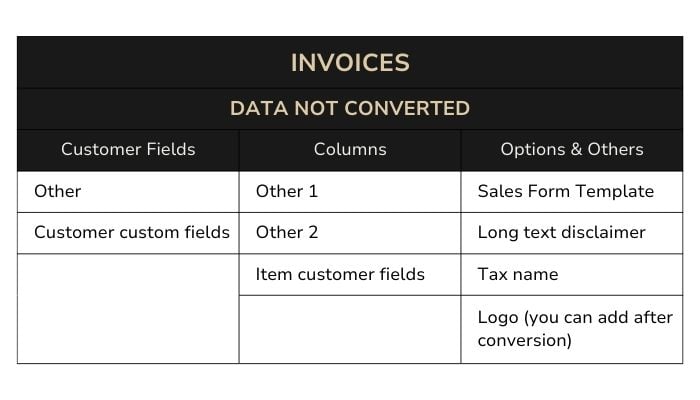 ---
JOURNAL ENTRIES
There is one specific aspect that doesn't carry over during the conversion process - the billable status of journal entries. It is not possible to make a journal entry billable in QuickBooks Online. In some rare cases, certain transactions like checks and invoices in your QuickBooks file may be transformed into general journal transactions if QuickBooks Online is unable to replicate the original transaction. This typically occurs when a check uses an income account instead of a bank account as its source account.
---
LAYOUT CUSTOMIZATION (SALES FROM TEMPLATES)
Any customizations you made to the layout will not be transferred during the conversion process.
---
MEMORIZED REPORTS
With QuickBooks Online, you have the ability to memorize reports, but unfortunately, any reports you previously memorized in QuickBooks Desktop will not be converted. But, don't worry! You can easily recreate these reports in the Online version and then memorize them again.
---
MULTI-CURRENCY
Multi-currency functionality is exclusive to QuickBooks Online Plus and can be seamlessly imported into the Online version. However, it's important to note that certain transactions created in QuickBooks Desktop may not be supported by QuickBooks Online. Specifically, transactions involving three different currency types are currently unable to be converted to the Online platform.
---
ONLINE BANKING
Once the conversion process is complete, bank and credit card accounts that were initially set up for Bank Feeds will need to be reconnected in QBO. Additionally, any bank rules that were previously established will need to be set up in QBO after conversion is complete.
---
ONLINE BILL PAYMENTS
Although QuickBooks Online does not currently have a built-in feature for online bill payment, there are alternative methods available. You can utilize third-party apps (we use  BILL) to seamlessly continue paying your bills online.
---
OTHER NAMES
In QuickBooks Online, there is no Other Names List. The good news: during the conversion process from QuickBooks Desktop, all the "other" names in your data file will be converted and categorized as 'Vendors'.
---
PASSWORDS & USER PERMISSIONS
To access a company file in QuickBooks Online, each user will be required to provide a password during the login process. It's important to note that QuickBooks Online has a customized level of access control called "user roles" and you can choose just how much, or how little, a user is able to access (for more on the different types of roles, click here).
---
PAYROLL
To complete the setup after importing your data into QuickBooks Online, you'll be required to fill out an interview. This step is necessary before you can create your first paycheck. During the conversion process, payroll information is limited and payroll checks will be transferred as regular checks. Therefore, you will need to manually enter the past payroll totals, including the year-to-date payroll information, for each employee. It's important to be aware that since the Desktop version is much more robust and has more payroll features, many details such as pay types and employee personal information are not carried over.
---
PAYROLL ITEMS
During the conversion process, transactions and the payroll account are converted to ensure your books are balanced. However, certain details behind the transactions, such as payroll item breakdown and employee year-to-date numbers, do not convert. Instead, liability refunds, adjustment transactions, and opening balance transactions that affect accounts are converted to 'Journal Entries'.
---
PENDING SALES
QuickBooks Online does not offer a feature to mark sales as "Pending." This means that any pending transactions from your QuickBooks Desktop file will not be converted to QuickBooks Online. However, QuickBooks Online Essentials and Plus do offer the Delayed Charge form, which serves as a non-posting sales transaction.
---
PRICE LEVELS
Price levels are not transferred during the conversion process because QuickBooks Online does not currently have a feature to automatically adjust prices of products and services.
---
PRINTING MAILING LABELS
QuickBooks Online does not have the capability to print mailing labels, so this feature does not carry over from QuickBooks Desktop.
---
PROGRESS INVOICING
This feature is available for all versions of QuickBooks Online and is successfully converted during the migration process.
---
PURCHASE ORDERS
Purchase orders are only available in QuickBooks Online Plus. Imported purchase orders that are closed will not be linked to their corresponding bills.
---
QUICKBOOKS PAYMENTS
When you are ready, you will need to set up a new QuickBooks Merchant Service account and close your existing Desktop account.
---
RECEIVE ITEMS
All the methods by which you can receive items in QuickBooks Desktop will be transformed into bills. For more details on bills and bill payments, refer to the information provided above.
---
RECONCILIATIONS
Although previous reconciliation reports are not transferred, you can easily identify reconciled transactions in the QuickBooks Online register by the presence of an 'R' in the cleared column. This allows you to quickly determine which transactions have been successfully reconciled.
---
RECURRING TRANSACTIONS
If you have QuickBooks Plus and Essentials accounts, the data will be imported successfully, including recurring (or "memorized") transactions. However, it's important to note that the Simple Start version of QuickBooks Online does not support recurring transactions. To avoid any potential system errors, it is recommended to delete all recurring transaction templates before importing your data.
---
REIMBURSABLE EXPENSES
In QuickBooks Online, there is a feature called 'Billable Expenses' that is similar to the 'Reimbursable Expenses' feature in QuickBooks Desktop. However, there is a slight difference in how it works. In QuickBooks Online, you will need to specify the markup percentage when creating the purchase, rather than when creating the invoice. Any expenses and time that have not been billed in QuickBooks Desktop will be converted as billable expenses in QuickBooks Online.
---
REMINDERS
Reminders are not transferred during the conversion process.
---
REPORTS
In QuickBooks Online, you will find a range of reports that are unique to the system. While some of these reports may resemble those in QuickBooks Desktop, others have been modified slightly. It's important to note that while your accrual basis reports will remain consistent across both products, your cash basis reports might differ. This is because cash basis calculations can be subjective, and there are certain variations in how the two products determine what constitutes a paid transaction.
---
REPORT CUSTOMIZATIONS
Customizing reports in QuickBooks Online may have its limitations, but it still offers extensive filtering options and the ability to export to Excel for further refinement if needed. You have the option to save your customizations, similar to how you would memorize them in QuickBooks Desktop, and even schedule the reports to be automatically sent.
---
SALES REP
The sales rep names you previously recorded in your Desktop file will be preserved in the transactions' 'Custom Field'. You can still assign sales rep information and easily filter reports according to your needs. When assigning a sales rep to sales transactions, you simply need to enter the name instead of selecting it from a dropdown list.
---
SALES TAX AND VALUE ADDED TAX (VAT)
After the conversion process is complete, you will find two sales tax payable accounts on your Chart of Accounts. One account will represent the old Sales Tax Payable account from QuickBooks Desktop, while the other will be the Sales Tax Agency Payable account in the new QuickBooks Online. These accounts are automatically set up for each jurisdiction during the conversion. Going forward, QuickBooks Online will only utilize the new Sales Tax Agency Payable account. VAT codes and sales taxes may not convert smoothly, but you can easily resolve this issue by making journal entries or importing the list and balances separately.
---
SHIP VIA
During the conversion process, Ship Via information is preserved, but when entering it for transactions, you will need to manually input the shipping method instead of choosing from a pre-existing list.
---
SHORTCUT LISTS
The shortcut list and icon bar settings from your Desktop will not be converted, but fear not! QuickBooks Online has its own array of keystroke shortcuts. Simply hold  Ctrl+Alt+? in any window to unveil the shortcut menu and enhance the efficiency of your tasks.
---
TERMS
In QuickBooks Online, the Terms feature functions similarly to the Desktop version, but with an added enhancement. When importing data, the Terms are brought over without any changes. However, there is a notable difference when it comes to jobs. In the Desktop version, a job cannot have its own specific Terms and instead, inherits the Terms from its parent customer. In QuickBooks Online, a job, known as a "sub-customer", can have its own Terms, allowing you the flexibility to edit them later and customize them differently from the parent customer's Terms.
---
TO DO LIST
QuickBooks Online does not define tasks or create a To Do list. As a result, these tasks will not be converted when migrating from QuickBooks Desktop.
---
TYPE: CUSTOMER, VENDOR (SUPPLIER), JOB
In QuickBooks Online, there is currently no option to classify customers, vendors, or jobs with types like you can in QuickBooks Desktop. When your customers, vendors, and jobs are converted, their type classifications are not carried over.

Quick Reference: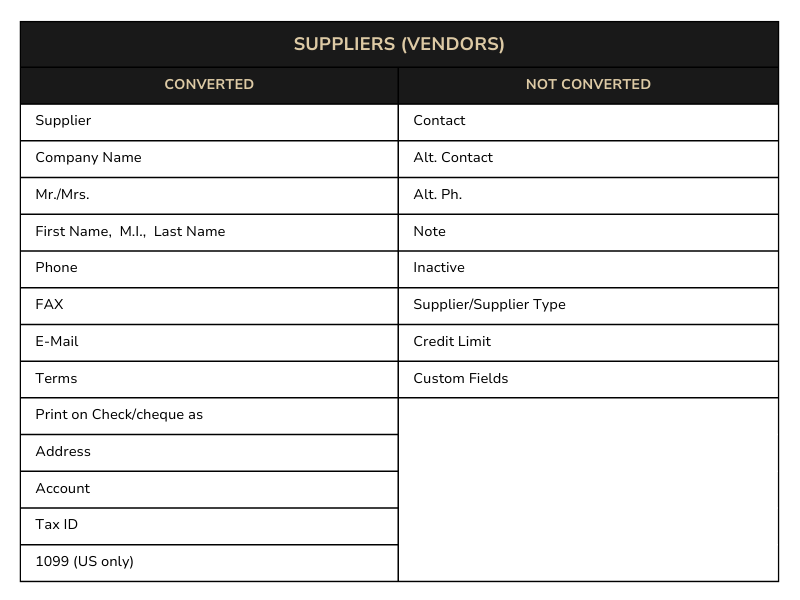 ---
SUPPLIERS (VENDORS)
When migrating from QuickBooks Desktop, all of the vendors in your data file will be converted. However, it's important to note that not all of their details and information will carry over. The following list provides an overview of what will and will not be converted.
---
WRITE LETTERS
QuickBooks Online currently does not offer the functionality to generate custom letters using your data.
---
HAVE MORE QUESTIONS?
Have more questions or looking for help converting your QB Desktop to QBO? Intuit support and your Kaizen QuickBooks Pro Advisor are valuable resources to help you through the conversion process and beyond.