After Onboarding
Using the roadmap to help your reach your goals.
Roadmap to Success
Your roadmap to success starts with a solid foundation that is built during the onboarding process. It is during this crucial stage that we lay the groundwork for achieving your goals.
Explore how monthly financial statements, coupled with support and proactive advice, impact your decisions and ultimately your financial success.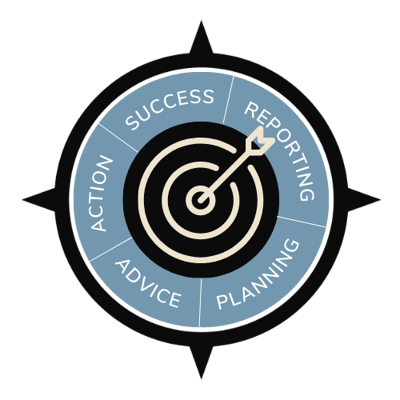 In by the 10th, out by the 25th
Once you've been onboarded, we can get into a rhythm with monthly reporting.
By the tenth of the month, you'll provide us with: sales reports, online platform statements, bank and credit card statements, loan documents, etc. Everything that we need to create and maintain accurate books and generate current and thorough financial statements.
On our end, we'll ensure bank and credit card accounts are reconciled and loans are amortized, ultimately closing the books. This enables us to provide accurate and up-to-date financial statements by the 25th of the month.
When you're equipped with accurate and complete financial statements, you'll be able to track and manage your business more effectively.
Your financial statements are the keys to understanding what is going on with your company, but it's more than that: they tell the story of your business. We get it, it's fun to jump to the bottom of the page and look at your net income number because you want to know how much money you make.
The problem is that this only gives you a small sliver of the story of your business. That can lead to losses in profits, missed opportunities, and overlooked potential tax deductions. The purpose of good financial statements is that they really tell the narrative of your business activity.
Financial statements are comprised of statements of assets, liabilities, and equity, and the related statements of revenues, expenses and retained earnings. These are commonly referred to as Balance Sheet and Income Statement (Profit & Loss). Also included in the financial statement packet: two & four-year comparative P&L, monthly comparative balance sheet, year-end close of books and annual report.
With clear and accurate financial statements, you'll be able to more easily review sales trends, expenses, assets, and liabilities — and ultimately the equity you have in the business.
Our advisory meetings are essentially strategy sessions — we listen, engage, and provide advice to help guide you. The number of times we meet with you is dependent on the level of service you choose.
With proactive planning being so critical to a successful business, it's no surprise that more than 90% of our clients choose the Plus level. Choose the level that best fits your business needs and get the advisory support you need to reach your goals.
We're here not only to help you understand numbers, we're here to help you make more informed decisions so you can experience meaningful growth and get back to doing what matters most to you.
With ESSENTIALS, you get an annual meeting to review your tax return, but not much planning beyond that.
PLUS includes three advisory meetings strategically designed to eliminate surprises and provide ample time to implement changes before year-end.
PREMIER takes it to the next level with a more intense monthly review, the equivalent of having an outsourced CFO on your team.